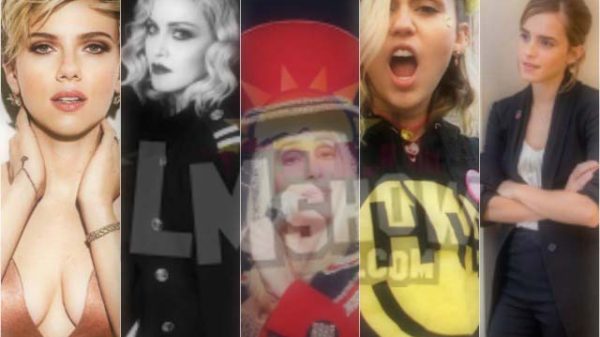 Ciudad de México, (LMSHOW.COM).- Este sábado mujeres de todo el mundo marcharon contra el nuevo presidente de Estados Unidos, Donald Trump, quienes advirtieron que no callarán los próximos cuatro años y defenderán sus derechos siempre que sea necesario.
Entre las famosas que se concentraron en Washington destacan, Madonna, Scarlett Johansson, Miley Cyrus, Charlize Theron, Alicia Keys, Emma Watson, Vanessa Hudgens, Cher, entre otras.
¡Checa las fotos!
"La reina del pop" sorprendió a todos al aparecer de sorpresa en el escenario y manifestarse contra Trump, en sus redes sociales subió esta imagen junto con el mensaje:"Exprésate… Para que puedas respecto a sí mismo. 🎤🎼🎹🎸🗣 En el escenario en la marcha de las mujeres en D.C. 🏃 ♀️🏃♀️🏃♀️🏃♀️🏃♀️🏃♀️🏃♀️🏃♀️"
La polémica cantante Miley Cyrus no pudo faltar en esta manifestación.
.@happyhippiefdn @womensmarch @womensmarchla #womensmarchla #WMLA #whyimarch #hearourvoice #hh4pp pic.twitter.com/hEyG61So60

— Miley Ray Cyrus (@MileyCyrus) January 21, 2017
Por su parte la cantante Ariana Grande, subió varias fotografías dela marcha, junto a una escribi´un mensaje de reflexión: "Somos mucho más fuertes y más fuertes que el odio, la ignorancia, el sexismo, el racismo, el egismo, la homofobia, la transfobia, la vergüenza del cuerpo, la zorra avergonzada, los prejuicios, la discriminación de todo tipo, el condicionamiento patriarcal y las expectativas al revés de lo que una mujer debe ser!"…
La afamada actriz Emma Watson también marchó por la causa.
#WomensMarch pic.twitter.com/dYZPxJ13FI

— Emma Watson (@EmmaWatson) January 22, 2017
Aquí Yoko Ono y la actriz Whoopi Goldberg, demostrando el poder femenino.
#WOMANPOWER
At the NYC #WomensMarch with dear @WhoopiGoldberg pic.twitter.com/DXVOrAEMYs

— Yoko Ono (@yokoono) January 21, 2017
Así apareció en el escenario la cantante Alicia Keys.
No matter where you were today… We sent a powerful message! https://t.co/vj0j1Xvxvy #WomensMarch #WhyIMarch #WomensRightsAreHumanRights pic.twitter.com/wd8wM7D5hV

— Alicia Keys (@aliciakeys) January 21, 2017
También la actriz, cantante y modelo estuvo en el evento histórico.
La reconocida actriz Scarlett Johansson habló a favor de las mujeres.
FOTO: Tomada de Internet.
Así mostró el apoyo Charlize Theron.
Representing here at Sundance !#womensmarch #marchonmain pic.twitter.com/oqEalezNJh

— Charlize Theron (@CharlizeAfrica) January 21, 2017
¿Qué sientes?

Comparte tu opinión